Learn with Loopio
Building The Ideal RFP Response Process: A Step-by-Step Guide
RFP responses—that stands for request for proposals—are a tool buyers use to evaluate new qualified vendors or renew existing contracts. And they're an essential sales tool: Research shows RFP responses account for a whopping 41 percent of revenue. That's why having a process to optimize RFP response writing is critical. After all, RFPs aren't always easy to answer.
Despite their importance to the bottom line, the RFP process can be a huge hassle. Crafting a winning RFP response requires input from multiple stakeholders, carefully-tailored answers, and a compelling story. (No pressure!) So it's no wonder that 44 percent of RFP responders report that they struggle to find accurate answers quickly and 43 percent have difficulty collaborating with internal subject matter experts. On top of that, teams typically have just weeks—or even days—to meet RFP deadlines (and 35 percent of responders consider it to be a big challenge).
The secret to making RFP responses less painful is to have a process that makes overcoming these challenges easier so you can finish faster, improve quality, and win more—all while maintaining your sanity. We'll show you how.
---
P.S. Want to go deeper? We've created a whole eight-lesson course that will help you build the perfect RFP response process in real-time. It's free to access here. 
---
How to Fill Out a Request for Proposal
The key to writing a great response is breaking the RFP process into manageable steps. We recommend following a simple, three-step process to streamline your approach to answering proposals. First, personalize your standard content for your prospective vendor, agency, or customer. Then, get your subject matter experts (SMEs) to fill in the gaps. Finally, proofread the proposal to make sure it sounds professional and consistent.
Following a simple writing process is essential, especially given that 75 percent of RFP responses involve eight people or more. When you're working with multiple contributors, the RFP writing process can be full of misaligned ideas, needless back-and-forth, extra rounds of edits, and not to mention time consuming. By using our RFP process you'll get everyone on the same page—saving time and minimizing confusion. (Your contributors and subject matter experts will thank you.) 
Read on to learn how to fill out an RFP using our simple, three-step writing process.
Step 1: Personalize Existing RFP Content
On your first pass through writing an RFP response, tackle the low-hanging fruit.
Use your content library—or your most recent 5-10 RFP responses—to start filling in the answers to frequently asked questions. (If you don't have a library yet, don't stress. You can work on building this as you go.) If you can't answer a question yet because you need an SME's knowledge, skip it for now—we'll tackle these in our second pass. Be sure to tailor each answer to the question the RFP is asking and personalize each proposal response to your audience.
---
Step 2: Get Your SMEs to Fill in the Gaps in Your RFP Response 
Once you've covered all the ground you can manage, it's time to enlist the help of your team's SMEs. In order to make the best use of their time, make your requests specific and provide supporting materials, where possible. For instance:
Share your content plan to help SMEs align with key proposal themes.
Provide a past RFP they can use as a guide to model the structure of their responses.
Take a first pass at a draft and get their help to fact-check your answers.
---
Step 3: Take a Final Pass for Editing
Typos and other errors can make your RFP response look unprofessional, so proofreading is an essential step in your process. If possible, designate someone on the team who isn't involved in writing the RFP response as a proofreader, so they can edit the document with fresh eyes.
If this isn't possible, you can try some of the following tricks to get fresh perspective on your own work:
Give yourself a full day away from the RFP—taking some space will help you return to work with a new perspective.
Change the document font—this can trick your brain into seeing the text as a new piece of writing.
Read the proposal (or sections of it) aloud—this can help you slow down and engage with what's on the page, not what you think is there.
Use tools such as

Grammarly

or the

Hemingway App

—these can catch errors and help you make your content more readable.
Once you've given your RFP response a final polish, you're ready to submit it to key stakeholders. Remember to carefully review all submission instructions so you don't forget anything that may be needed, like attachments or a cover letter.
---
Set Up Your RFP Response Process for Success
Once you've mastered the basics of how to fill out an RFP, the blackbelt move is to set up your whole process to make responding to RFPs faster and easier. In this next section, we'll show you how.
Step 4: Assess if You Should Respond
Many RFP response teams split their time and attention by not being picky enough when it comes to selecting which RFPs they'll answer. To be as efficient as possible, you need to cut any RFPs that don't serve your goals.
---
Before starting an RFP response, Jon Williams, UK Managing Director at Strategic Proposals, recommends asking four questions:
1. Is it a real opportunity? Take a temperature check to see if your prospect is serious about the opportunity. Remember, many organizations sometimes use RFPs for benchmarking purposes or to keep their existing suppliers on their toes.
2. Do you want it? Think about the fit between this opportunity and your long-term business goals. Are they in alignment with your criteria?
3. Can you win it? What are your odds of scoring this deal? Be honest with yourself. Consider your relationship with your prospect as well as the competition you might be up against.
4. Can you do it? Review your internal capacity. Would it be feasible for your organization to take on this project and execute it in a way you're proud of?
Don't begin any RFP response until you can say 'yes!' to all of the above four questions. 
Remember, any duds you eliminate leave you with more time, energy, and creativity to spend on the RFPs that do matter.
---
Step 5: Do the Prep Work Up Front to Avoid Scrambling Later
Once you've decided to pursue an RFP, it's tempting to jump in and start answering proposal questions. But taking some time to understand the requirements and strategize will save you time in the long run—not to mention improve the quality of your final submission.
Here's what you need to do up front in the RFP process to save time later:
a. Don't Skip the Instructions
Before you begin working on a new request for proposal, read the directions carefully. Make note of the requirements, especially:
Formatting instructions
Submission information
Any special requirements

Knowing these details up front will help prevent any surprises at the eleventh hour.
Additionally, carefully reading the requirements can give you insight into the companies' needs, giving you a head start on your RFP response strategy. Does the company seem focused on security? Ease of use? Good design? Any specific functionalities or features?
Make note of it—these details will help determine your key RFP proposal themes later.
b. Make Your Game Plan
A little bit of planning goes a long way in making the writing process go smoothly (and making your contributors' jobs easier!). Preparing a content plan that you can share with your contributors will allow you to work together to tell a compelling proposal story.
This plan can take whatever format you choose (think bullet-point outline, content storyboard, or slide deck) but should cover:
Any content from previous RFP responses that you can repurpose (with some tweaks)—e.g. Standard company boilerplate and answers to frequently asked RFP questions
Your key proposal themes—the elements of your offering that would convince your audience to choose you over a competitor, e.g. Exceptional customer service, high security standards, and intuitive user interface (UI)
Net-new content that will require help from SMEs
Once you've put together your content plan, you'll have a sense of how much work you have to do and who you need to reach out to for support on specific questions.
---
Step 6: Wrangle Your Subject Matter Experts
Many RFP responders have a love-hate relationship with their subject matter experts (SMEs). It can often be tough. They're busy. They wait until the last minute to return your messages. But at the end of the day, you need each other. In order to collaborate effectively on future RFP proposals, you need to be strategic in the way you're using everyone's time—here's how.
a. Build Your Dream Team
Take a look at the content plan you've created. What RFP sections will you need your SMEs' input on? Who could you ask to provide those details and that information?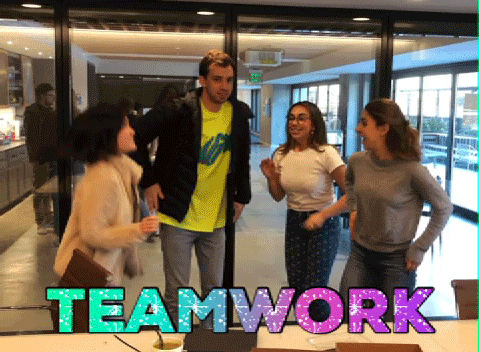 ---
Pro tip: Make a list of your key SMEs, so you always know who to ask.
List their key specialties and the best ways to reach them. This should be a living document that you continue to update and add to over time. We recommend including some of the following people:
1. Technical or Product team members
2. Marketing
3. Design
4. Customer Success
5. Security/Infosec
6. Legal and/or Compliance team
7. Any managers, VPs, or C-Suite needed for approvals
---
b. Create a Project Roadmap
Once you've identified the subject matter experts you'll ask to help contribute to the RFP response, you can start thinking about the important project deadlines they'll need to meet.
Outline the task assignments and draft a loose workback schedule. Make sure to factor in time for design and proofreading. You'll finalize these task assignments and deadlines at your kickoff meeting.
c. Host a Kickoff Meeting
The goal of your kickoff meeting is to brief your contributors and subject matter experts on the project roadmap, as well as the content storyboard.
Additionally, you'll need to ensure everyone feels confident in their responsibilities and the story you're telling. As an example, your meeting agenda might look something like this.
---
Sample Kickoff Agenda
1. Introduce the opportunity
2. Inspire with the story you're telling (this is your opportunity to get buy-in)
3. Outline key project milestones
4. Assign roles and responsibilities
5. Get all stakeholders to agree on the timeline and their participation
6. Ensure they understand how to approach their answers by sharing your content storyboard
7. Outline next steps
8. Discuss any questions or concerns
---
Next Steps: How to Set Yourself Up For Ongoing RFP Success
Submitting the proposal isn't the end of your RFP response process. Soon enough, another RFP will come along for another project. And when it does, your library of fresh and up-to-date content is what'll help you and your team respond quickly, with far less effort.
If you don't already have an RFP content library, now's the time to start building one. This will be easiest with a dedicated RFP response tool like Loopio, but Microsoft 365's SharePoint or a shared Google Drive folder can also work to start.
At a minimum, the software you use should be searchable, and allow you to note when an answer was last updated (if the tool doesn't do so automatically).
Don't agonize over building a huge, complete library with content to cover every possible question—it's okay for it to be a work in progress. Start by adding the answers from your most recent 5-10 RFP responses, and then add your new answers each time you complete an RFP.
Soon enough, you'll have a comprehensive library you can draw from any time you need to write an RFP response. (Psst: want some help building out your content library? Get started with these best practices.)
Given how critical RFPs are to business success, it's important for you to feel confident and satisfied in your process. By implementing an effective RFP process, you'll save time and improve the quality of the proposals you submit—resulting in less stress, a better win rate, and a happier team.