Loopio Overview
Craft Winning Responses On Time, Every Time
Never choose between quality and speed again. Now, your team can deliver its best work and hit deadlines with Loopio's RFP management software. Use it for RFIs, security questionnaires, and more. Want to see how it works?
LIBRARY MANAGEMENT
The Best Answers, At Your Fingertips
With Loopio's platform, RFP answers will finally have a home. The content library is searchable, always up-to-date, and—most importantly—saves your team valuable time.
RESPONSE AUTOMATION
Put Tedious Tasks on Autopilot
Digging through old documents. Reformatting outdated responses. Let Loopio automate manual, low-impact tasks in the RFP response process so that your team can focus on what you do best—creating stellar responses.
PROJECT MANAGEMENT
Oversee Projects & Collaborate Effortlessly
Make responding to any question a streamlined, transparent process for everyone involved (including subject matter experts). It's easy with Loopio's collaborative cloud-based platform.
Be the Sales Expert Your Customers Need
Buyers demand expertise about your products, company, and services. Provide your sales team with expert-vetted answers so they can take any question and transform it into an opportunity to win the deal.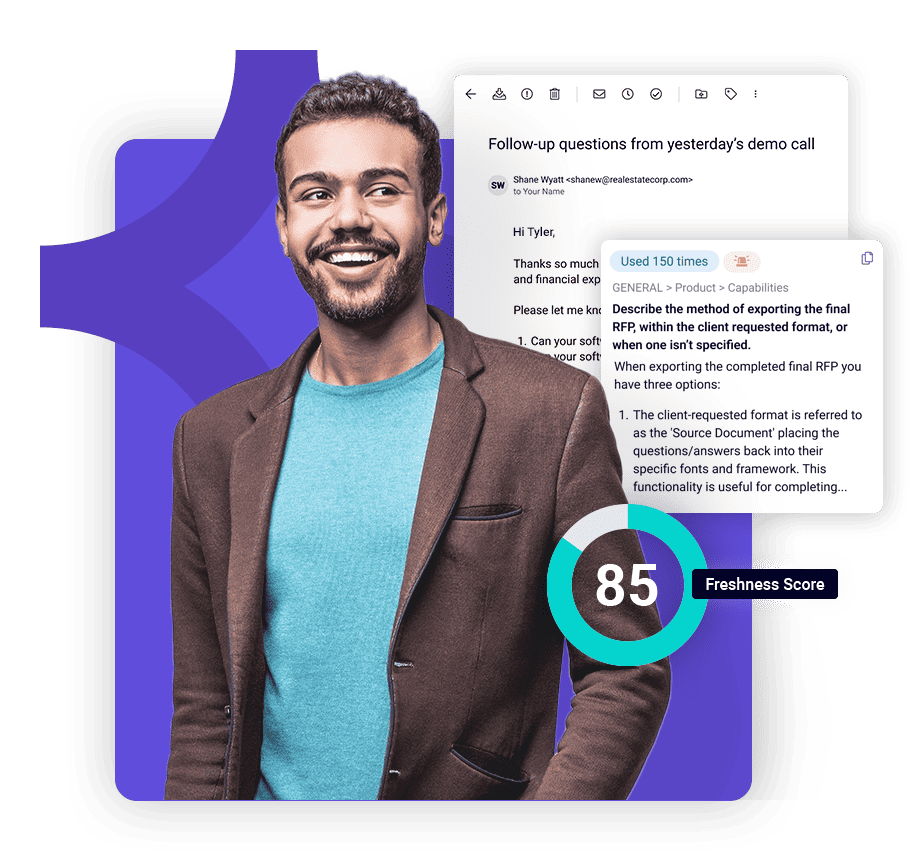 Learn Why Leading Organizations Choose Loopio
"Because we have the Loopio Library, our answers are thorough, well-thought-out, and up-to-date. That's a big deal."
Matthew Bianco
Senior Sales Engineer
Netskope
"We've completed nearly 600 RFPs in 10 months and have not missed a single deadline."
Stephen Remmert
Sales Support Project Lead
SailPoint
"The ability to help one another on a dime is big. To be able to collaborate without sending documents is huge for our small team."
Erica Yanecek
RFP Technical Writer
Businessolver
Flexible Integrations for Better Workflows
Connect Loopio to tools your team already uses, like your CRM, file drives, web browsers, or Google accounts. The results: more insights, increased productivity, and better responses.
Frequently Asked Questions