Answer Hundreds of Questions Quickly & Accurately
Get Sales, IT, and Infosec teams answering security questionnaires faster—without sacrificing accuracy—so your organization can get back to selling solutions, securing data, and driving growth (instead of being stuck in spreadsheets).
See Loopio in action. Watch a video walkthrough now.
Intelligent Answer Automation
Loopio's
security questionnaire automation
detects questions in new documents, suggests the correct answer, and exports your responses to their original format with ease.
Project Tracking & Intuitive Workspace
Improve internal collaboration between sales and security teams with flexible user roles, review notifications, and project milestones in a shared platform.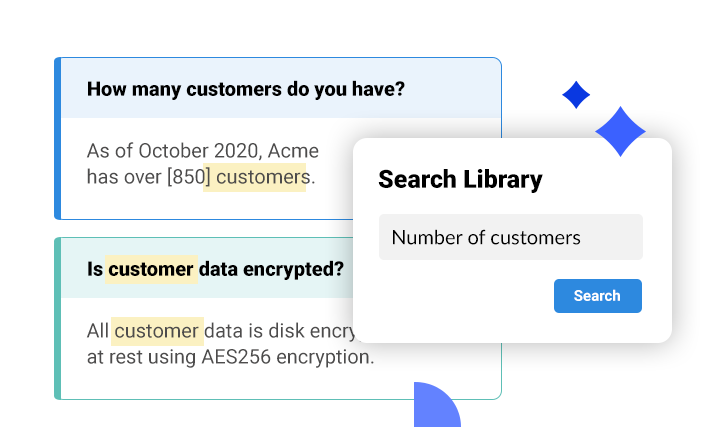 Content Organization & Review Tools
Organize content, refresh outdated information easily, and update your
security questionnaire
Library automatically after every new project is finished.
Security Questionnaire
Automation Success Stories
"We are now given time back to focus on what SEs should be doing, and that's to be in front of the customers."
Mario Puras
VP of Sales Engineering,
Netskope
"I received an email from a SE leader titled 'Loopio saved my bacon'—they had just responded to a questionnaire in under 30 minutes."
Leah McTiernan
Vice President, Solution Engineering,
DocuSign
"Something that would have taken us hours or days to pore over is now automated. We don't have to worry about it anymore."
Tanner Volz
Technical Content Manager,
iovation