A Look Forward: 6 Surprising RFP Industry Trends to Watch in 2023
Over the last few years of tracking RFP industry trends, we've seen proposal teams hit their stride as they submit more responses, gain dedicated owners, and consistently drive revenue. 🚨Spoiler alert: The value of RFPs is not a one-year trend.
But this year comes with a twist…
In the fourth annual 2023 RFP Response Trends and Benchmarks Report, we partnered with the Association of Proposal Management Professionals (APMP) to see how professional development impacts win rates, process satisfaction, and more.
Unsurprisingly, the results speak volumes.
Hearing from a total of 1,500 global teams (half of which are APMP members) who respond to a collective 242,322 requests for proposals annually, we discovered that RFPs contributed to over $485 billion in revenue this year. 🤯
In this blog, you'll look closely at which top trends forged the way for this astonishing revenue generation. Plus, learn what you can do this year to stay ahead of the competition. Here are 6 RFP industry trends to watch for in 2023:
🤑 Wins Stabilize, While Revenue Increases
📈 More RFP Submissions Are on the Rise
👪 Working With SMEs Remains a Top Challenge
✍️ Teams Spend Longer Writing Responses
⚖️ Teams Balance Training and RFP Tools
1. RFP Revenue Increases, Even As Win Rates Stabilize
For the first time since 2020, revenue sourced from RFPs has climbed to 39%, almost reaching pre-pandemic levels (41%).
But if we look at the overall trend from the last four years, the value of RFPs has stayed relatively consistent, influencing an average of 30-40% in revenue. So, there's no question that RFPs are a key resource to rely on in the changing tides of the global economy, even if win rates are still 9% lower than in 2019 (stabilizing at 44%).
Percentage of total revenue sourced from RFPs.
What's interesting is that APMP members influence a higher percentage of revenue from RFPs than their peers: 44% compared to the average of 39%. They also influence a higher dollar value of revenue, at $617M. And report a higher win rate of 46%.
Zoom Out: Small Businesses Rely on RFPs, Too

In the last year, RFPs influenced an average of $325.4M of company revenue. Of course, Enterprise organizations generated way above the average with $828.2M, likely because they have the capacity (and clout) to win big contracts.

But proportionality, small businesses sourced 40% of revenue from RFx on average (which is on par with Enterprise). And don't lag far behind in terms of win and advancement rates. No matter the business size, this type of RFP success will come in handy for a less-than-spectacular economic forecast.

Zoom In: Price is a Top Reason for Losing Bids

A 44% win rate means there were still more no's than yes's from customers. So, what's the top reason for losing bids? 66% of RFP teams chalk it up equally to price or competition. That said, the "price of our solution" has jumped by 11% from last year. As customers scale back budgets, it's easy to see why teams are feeling a crunch on price.
💡
Advice for 2023: Find Your Competitive Edge
RFPs are already competitive by nature, but as more companies realize their value (especially in an economic downturn), the competition will only get fiercer. While it may be tempting to participate in a price war—and win at all costs—it's better to compete on value in the long run. So, consider launching a competitive insights program to get clear on where you have an edge, which you can weave into your proposal win themes.
2. RFP Volume Increases, Reaching New Heights
Companies replied to an average of 162 RFPs this year, much more than last year's 137. The top 20% of teams submit 250+ bids annually, while the lowest 20% submit less than 25.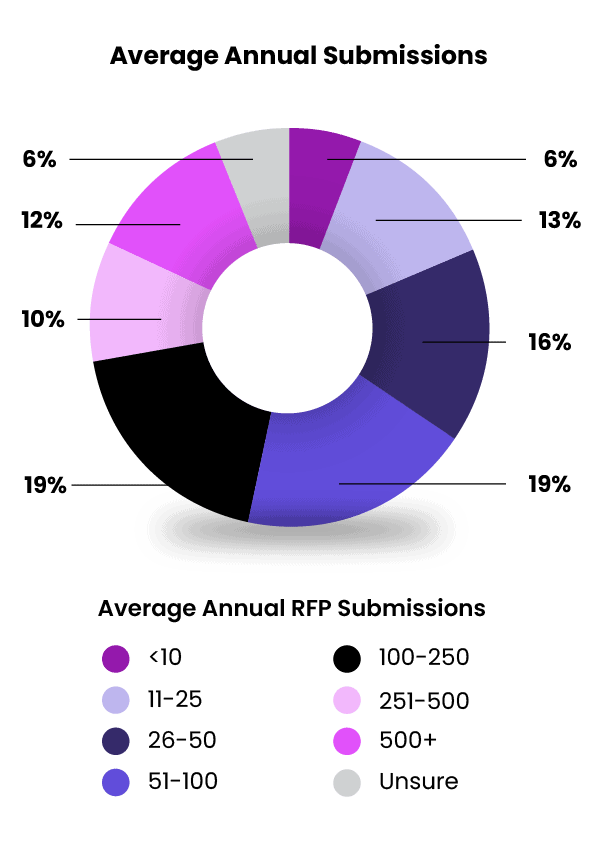 Although the overall average is significantly higher than the year before, this spike is likely due to the exceptional volume of bids submitted by APMP members, which is 189 submissions compared to 139 by non-members. That said, there still appears to be no dip in volume across the board, as 76% of teams say they submitted the same or more RFPs than in 2021.
Zoom Out: Participation Rate Remains Flat

In 2022, teams responded to 63% of the RFPs they received—which is on par with last year's 62%. But it's also the first time that the participation rate has remained flat after years of trending downward (from 69% in 2019). Either proposal teams have found a happy medium in how many RFPs to tackle annually, or they've hit a plateau for selectivity.

Zoom In: Teams Unsatisfied With Go/No-Go?

It's promising to see that qualification trends are on the rise, as 80% of teams use a go/no-go process (up from 76% last year). But 28% of teams feel unsatisfied about how well they follow RFP evaluation criteria, saying that "strategically deciding which RFPs to focus on and ignore" is a challenge. Since non-stressed teams respond to fewer RFPs (59% on average) and have a 3% higher win rate than stressed teams, selectivity is critical to nail down.
💡
Advice for 2023: Revisit Your Evaluation Criteria 
Defining your evaluation criteria shouldn't be a one-time task. As things change—whether it's your company's goals, client needs, or the economy overall—so should your factors for responding to RFPs.
So, invite the right stakeholders to revisit your go/no-go process this year. If everyone is on the same page about what qualifies as an excellent opportunity (and what doesn't) in current circumstances, they will more likely stick to it. (Psst…If you build your go/no-go criteria into your intake process, it will be followed automatically.)
➡️ Need a gut check on how to qualify RFPs as a Yes or No? Download this go/no-go decision template.
3. The Struggle for Internal Collaboration Remains Unsolved
Yet again, the top challenge this year was collaborating with internal subject matter experts (SMEs)—which has been a rising trend amongst teams as they navigate new workplace dynamics (remote, hybrid, or returning to office). Even APMP members—who typically have formalized processes—feel the struggle, as 56% said the same.
Not far behind were "finding up-to-date, accurate answers" at 42% and "meeting deadlines and dealing with delays" at 35%. Both of these can tie back to the root cause—receiving timely responses from SMEs—especially considering that 33% of respondents report this as the #1 recommendation for winning more in 2023.
Zoom Out: Tight Squad vs. Multiple Perspectives

Involving more people in the RFP response process tends to mean more communication, more bureaucracy, and more chaos. This could be why 59% of teams are trending toward the smaller side of 7 people dedicated to RFPs—just enough to feed one pizza.🍕 That said, 41% of teams still pull in 15+ people to contribute to the final response. So, it would seem that teams are trying to strike a balance between a tight-knit squad and multiple perspectives.

Zoom In: More Teams Have a Dedicated Owner

Every proposal needs someone to steer the process, and the good news is that 55% of companies now have a dedicated owner (whether a manager or team). Up from 42% last year, more companies seem to appreciate specialization for RFPs and are seeing satisfactory results—a 60% satisfaction rate with the overall process. That said, having someone at the helm has yet to alleviate the biggest challenge of all: working with SMEs.
💡
Advice for 2023: Make Involvement Meaningful for SMEs
The first step toward overcoming this top challenge is to save and repurpose answers from SMEs using an RFP content library—so you don't have to ask them the same question again and again.
But what happens when you have to nudge them for updates?
Instead of only thinking about how to make their involvement easier, think about how to make it meaningful too. When SMEs see the value of providing answers for RFPs, they'll be more willing to chip in.
For example, you can give them company-wide recognition for the wins they contribute to or emphasize the direct impact they will have on the opportunity in the kickoff meeting.
4. More Writing Time = Higher Win Rates (Or Does it?)
​​Last year, we discovered that increased writing time correlates with higher win rates as top performers (those who win 50% or more of bids) spent two more hours on average. And many teams took this to heart in 2022. Now, they spend significantly longer writing their responses: 32 hours this year compared to 24 hours last (and the years prior).
Interestingly, top performers also increased their writing time from 26 to 33 hours. Although extra attention to compliant, consistent, clear, and compelling proposals (the four C's) leads to higher win rates, it should be carefully considered against the number of hours a team puts into the bid and whether that contract is worth the return on investment.
Zoom Out: Total Turnaround Time Increases, Too

Along with increasing writing time, 45% of teams are allowing more time to respond to RFPs overall: taking 6-20 business days compared to less than two business days last year. This is in line with APMP members—who, need we remind you, have the highest win rate. Over half of them take one to four weeks to respond as well and spend 39 hours writing.

Zoom In: Too Fast or Too Slow?

There are still teams who prioritize speed. Take sales respondents, for example—74% submit in less than ten business days, spend the least time writing (27 hours), and have the lowest win rate of any role.

On the other hand, those that selected 'other' as their role spent the most time writing (41 hours total) and reported a 40% win rate, which is lower than the average.  It's likely this group doesn't have as much experience writing bids, which leads them to spend more time on the process. This leads to the question: Is more writing time due to excellence or inefficiencies?
💡
Advice for 2023: Spend Quality Time Writing
The question shouldn't be, "how much time do you spend writing" but "what do you do with that writing time?" After all, the key to crafting winning proposals isn't the number of hours you put into it but how well your narrative captivates the evaluator. So, make sure you also spend that time:
✓ Developing a clear and strategic content plan.
✓ Customizing the message for the client (no boilerplate responses).
✓ Applying proposal writing best practices, like substantiating claims.
✓ And triple-checking for quality.
➡️ If you don't have a proposal writer on board, consider outsourcing to a team of experts, like Dragonfly Editorial.
5. Resources Remain Steady, Teams Balance Training & Tools
Two out of five respondents claim they gained new resources in the last year—36% said resources stayed the same. Considering that "burnout among team members" is one of the top challenges in the RFP process (according to 29% of teams), it appears that proposal professionals still lack the budget, people, and tools to complete their bids—and enjoy it.
For instance, only 49% of teams say they use RFP automation software, down from 69% last year. This 20% drop is likely due to half of the sample being APMP members. On average, just 32% of APMP members use a dedicated RFP tool.
Zoom Out: Teams Turn Focus to Improved Training

As companies prepare for a recession, they will likely make tough decisions about which resources to invest in. This prioritization is already intensifying as 46% of companies say their focus will lean toward improved training, compared to adopting new technology at 33%. What are the reasons? 40% say it's because they already "have tools that seem to work," while 28% of teams say they "don't feel like they need one."

Zoom In: RFP Software Users Influence More Revenue

Cloud sharing or email might do the trick, but teams that use RFP software reap the rewards. On average, RFP software users influence $405.2M annually vs. non-software users who only influence $245.1M—an average increase of 65%. That's likely because they can respond to more RFPs (34 more annually), thanks to benefits like storing and maintaining content, time savings, and automation of tedious manual tasks.

(Psst…79% of RFP software users also say they have increased the accuracy and consistency of responses, which means they're likely not losing bids from preventable mistakes).
💡
Advice for 2023: Build a Strong Business Case
Demonstrating the value of RFPs can help teams acquire resources, as seen by 42% of top performers (a.k.a. those who influence more revenue) who were most likely to be rewarded. But while 93% of teams already measure RFP metrics, the focus is mainly on win rates (67%).
If you want to build a strong business case, try quantifying areas of improvement too, like total turnaround time (which only 20% of respondents analyze) or team satisfaction (15%). Tracking a combination of revenue and process metrics will reveal more insight on where software can fill gaps—and help you win more.
➡️ Not sure what to track? Download this RFP analytics template to measure monthly results for 21 metrics that matter most for proposals, from cost per bid to team capacity.
6. Investing in RFP Teams Pays Off, Literally
There's a clear through line when we recap the trends above: APMP members are masters of their craft. They influence a higher dollar value of revenue, submit more RFPs annually, and report a higher win rate than their peers.
RFP Metrics 📊
Dollar Value of RFPs
Revenue Influence Via RFPs
RFP Submission Volume
Win Rate
Non-Members
$85M
34%
139
42%
APMP Members
$617M
44%
189
46%
But there's one more to add to their repertoire…
Zoom Out: APMP Members Also Advance More Often

APMP members have an 11% higher advancement rate than non-members, who make the next round 50% of the time in comparison. What's their secret? This shortlist success could be due to how much time they put into crafting quality proposals (they spend 14 more hours writing than non-members) and having the opportunity to learn and apply winning strategies through APMP's industry resources.

Zoom In: But There's Still Room for Improvement

Although APMP members outperform in most areas, their stress levels are shockingly 7% higher than their peers. Considering that stressed teams spend longer on RFPs (which 65% of APMP members do) and report a 3% lower win rate than non-stressed teams, it appears that APMP members may not be reaching their full potential—meaning their already-high win rates could be even higher with a more efficient process. 🤯
💡
Advice for 2023: Grow Your Proposal Expertise
Pursuing professional development by attending conferences, taking online courses, and joining a like-minded community can bolster your confidence, equip you with the knowledge to win more RFPs, and ultimately, lead to higher job satisfaction.  In fact, 51% of APMP members say they plan on staying in their careers because they enjoy their work.
So, consider setting up a professional development plan this year by identifying areas where you would like to grow your proposal expertise. Here are some ideas to get started:
✓ Become an APMP member to access industry resources and connect with proposal professionals around the world.
✓ Level up your RFP responses by taking a masterclass like Proposal Essentials, led by Jon Williams at Strategic Proposals.
✓ Tap into the collective intelligence of the response industry right on Slack by joining Response Insiders.
✓ Learn how to create an efficient proposal process through RFP Academy (8 lessons by 5 proposal experts).
✓ Hear about proposal best practices and sales strategies by watching on-demand sessions of Loopicon.
Download The Full 2023 Trends Report
Learn what best-in-class teams do differently to drive success.