Proposal Coordinator Career Path: 5 Strategies for Women to Advance to Director
Most people don't plan for a career in proposal management; it's something that most stumble into. Take Lucie Gordon, for example.
"Proposal management isn't something I necessarily thought of being my career. Especially considering the RFP acronym was something I had never heard of as a college student," explains Lucie, who rose from marketing intern to Associate Director of Proposal Services at Federated Hermes in less than a decade.
As Lucie learned, proposal management is a career with many different directions for growth. But the question is, how do you advance to the next level?
In this article, you'll learn from four female leaders who share firsthand advice on how to climb the ladder from entry-level positions. They've reached the heights of manager, associate director, and even senior director-level positions at leading global brands like DocuSign and Microsoft.
Considering women make up the majority of the proposal industry, we are sharing strategies specifically for women, from women, to springboard your career (and hopefully pay) to new heights.
---
Strategy #1: Climb the Ladder From Proposal Coordinator Jobs, One Raised Hand at a Time 🙋‍♀️
When Lucie Gordon started at the leading global asset manager, Federated Hermes, she was a college intern focused on creating marketing PowerPoints. Fast forward nine years later, and she's held six different positions at the company. Advancing quickly from her first official role as RFP coordinator to associate director of proposal services. 🤯
Her number one tip for climbing the ladder? Confidence.
I think speaking up and being confident in your beliefs and your knowledge base is so important. I've been very lucky to have management that has been receptive to my ideas and has allowed me to speak up, be present in important meetings, and just jump into the conversation…I think that's been a big part of my success in this field so far, and why I also feel fulfillment in my career.
Lucie Gordon
Associate Director of Proposal Services
Federated Hermes
The statistics back up Lucie's advice too. Surveys show that 98% of workers say they perform better when they feel confident. Plus, on average, self-confident workers earn up to $28,000 more annually (cha-ching). When you show up to work with a self-assured mindset, you're more likely to raise your hand, jump in, and get noticed by leadership.
But confidence can be hard to find when you're new to the industry or struggling with fear of failure. We recommend practicing small confidence-building behaviors like eliminating negative self-talk and reflecting on your accomplishments weekly.
A great place to start practicing in the workplace is on a low-stakes call or in-person meeting–try raising your hand. Whether you ask a question or pose a thought, it signals to your team that you are actively listening and willing to speak up. When you repeat behaviors like these, you'll see results in your performance, self-esteem, and growth–that's a big win in our book. 👍
💡What is the Career Progression of Proposal Coordinators?
Advancement from a proposal coordinator position looks different for everyone. In Lucie's example, her growth from RFP Coordinator to Associate Director of Proposal Services took just six short years, following the trajectory below.
RFP coordinator
RFP specialist
Senior proposal & core content specialist
Proposal manager, content & messaging
AVP, associate director, proposal services
That said, the career path from proposal coordinator is highly dependent on your strengths and interests–that's why it pays to do some self-reflecting (which we'll jump into next).
Strategy #2: Self-Reflect to Determine What Career You Want
The basic questions: who are you? and what do you want? are at the core of any big decision, especially your career trajectory. That's why Julie McCoy, the Senior Director of Global Proposal Management at DocuSign, urges you to strive for excellence.
Capitalize on your strengths. That's the one thing I've learned as I've matured in leadership. Originally I always looked at these things I was not good at. And honestly, everyone has things they're not good at, but you have things you're really, really great at, so capitalize on those. Use them, and think, where can you apply them?…You can be really successful and take different paths
Julie McCoy
Senior Director, Global Proposal Management
DocuSign
But how do you determine what career path is right for you? Well, you can start by asking yourself these questions to discover what role(s) suits your strengths. The answers will help inform what advancement can look like for you.
What do you want to accomplish?
What do you most enjoy about your current role?
What do you not enjoy about your current role?
Where do you see yourself in five years?
Do you thrive when it comes to teamwork and building relationships? Maybe people management in a role like bid manager is best for you. Do you enjoy telling a story and communicating? Perhaps being an individual contributor in a role like senior proposal writer suits you.
However, it's important to know career growth isn't linear. Julie herself went from a career in HR → her children's primary caregiver → climbing the ladder from proposal coordinator to senior director level at DocuSign. Life and work constantly fluctuate, so prepare to adapt and revisit these questions annually.
💡What is the "Motherhood Penalty"? (And How It Can Impact Your Career)
The motherhood penalty refers to the disadvantage mothers face when it comes to earnings, earning potential, the ability to get hired, and promotions.
Research from the National Women's Law Center found that mothers in the US working full time earn 70 cents for every dollar a father makes (which shakes out to $18,000 less annually).
In fact, two out of the four women we spoke to for this article (including Julie) highlighted this as a challenge they needed to overcome, to get to where they are today. These strategies for advancement are all the more necessary for women in the workforce looking to address promotion and pay parity.
Strategy #3: Achieve Continuous Growth Through Continuous Learning 📚
Embracing the forever student mindset doesn't mean staying up all night to finish an essay (or chugging Red Bull). It means welcoming learning opportunities–which is exactly what our next expert recommends.
Yasmin Ismail is a Proposal Manager at Microsoft, the largest software company in the world. When she first broke into the industry, she moved from Egypt to the United States, accepting a job as an RFP specialist in the healthcare industry, a completely new sector for her. While going into a field as complex as the US medical system without experience, she intentionally maintained her curiosity by asking a ton of questions to everyone she could.
Now supporting the Microsoft proposal centre of excellence, Yasmin carries that same lifelong learner mindset. In a professional context, this mentality has some serious benefits.
Research shows employees who spend time learning at work are 47% less likely to be stressed and 39% more likely to feel productive and successful. 🤯 But there are some more intangible benefits. For instance, you will:
Develop specialized skills 🔑 When you take the initiative to learn about topics that excite you, the likelier it is that you'll become an expert in the skill(s) you want to master.
Bolster your confidence 🚀 There's a link between competence and confidence–as you specialize your skillset, you'll feel more ready to tackle business challenges.
Build relationships 🤝 Learning from others requires you to set your ego aside and ask questions. As Yasmin explains below, connecting with your peers and understanding their work fosters mutual appreciation.
I'm okay with being ignorant about some things. And I'm very candid about saying I don't understand what you're talking about. Can you, in very simple language, explain it to me? And I usually find that SMEs appreciate that you're taking the time to understand what they're trying to do.
Yasmin Ismail
Proposal Manager
Shipley Associates, supporting Microsoft's Proposal Center of Excellence
💡Are Proposal Managers in Demand? 🔎
Yes, they are in demand because the specialized skills that successful proposal managers possess take time to hone. The career path to proposal manager typically begins with an entry-level role, as Yasmin's did. However, progressing into a management role requires some essential skills you can gain in varying positions, like proposal writer and proposal specialist. These skills include:
Communication to collaborate effectively with stakeholders and senior leaders
Time management to work efficiently to meet strict (and often tight) deadlines
Strong writing skills to produce high-quality proposal responses while having an eye for edits
Leadership to motivate busy SMEs to submit responses in a timely manner
To learn more about the different proposal roles and job descriptions, check out Bid Team Structure: Research Reveals Top Roles and When to Hire.
Strategy #4: Reach Outwards to Develop Inwards
Networking can sometimes feel like a dirty word (I mean, why is there always cold coffee?). But that's not always the case. Building professional relationships goes beyond simply exchanging business cards or a firm handshake. It's a powerful support network–especially for women.
Data shows women are less likely to get promoted without mentoring and sponsorship, so fostering these external relationships is a necessary step to working your way up, plus everyone in your network will benefit from:
Idea-sharing and feedback
Exposure to new resources
Increased professional visibility
Stephanie Benavidez, Head of Sales Enablement at Loadsmart, explains networking looks very different now than it did even a couple of years ago, but it's still just as critical. She emphasizes the importance of investing in yourself just as much as you are in others–whether that's attending online webinars or having coffee chats.
You know, I think if I were to tell my younger self what to focus on early in my career, it would've been those two things. It would've been continuing to invest in your own professional development and network, network, network…because, look, you can't grow in a vacuum.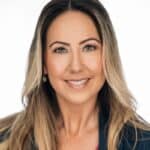 Stephanie Benavidez
Head of Sales Enablement
Loadsmart
If you've always wanted to work in RFPs, a natural progression to proposal writer would be to become a proposal coordinator on a proposal team. But careers (and life) don't always shake out so perfectly. In Stephanie's case, her path to Proposal Writing wasn't quite so clear. After finding a new, exciting job in the health sector, she was unexpectedly laid off.
Stephanie says,"I found myself unemployed (due to an organizational acquisition and reorganization), after thinking that I was like on top of the world, and I had to then figure out, well, what the heck am I gonna do?…but that's where I think you have to look inside and say, all right, what can I control here?"
Despite appearing like a roadblock, this setback was actually a door into proposal writing. Having the resilience to pick up after an experience as financially and emotionally challenging as a layoff is a feat that we can all learn from. As Stephanie, herself says, "without risk, there's no reward in life".
Strategy #5: Build Your Proposal Skills with a T-Shaped Approach
What does it mean to build internal relationships? And what does it mean to understand where you fit in? It all boils down to embodying both hard and soft skills, or what recruiters call a T-shaped skillset.
The T-shape is a metaphor for career growth:
The vertical line represents expertise and deep understanding of a particular field, a.k.a. hard skills (for example, writing compelling responses and grammar).
The horizontal line represents cross-discipline collaboration and communication, a.k.a. soft skills (for example, leading with compassion and building interpersonal connections).
Both are equally important, and developing these qualities helps recruiters and leadership alike determine how valuable you are to an organization.
But when it comes to winning proposals, there are so many variables, like competition, capacity, and pricing, to name a few. That's why growing into your dream role requires more than just technical skills and producing completed proposals. We suggest you adopt Yasmin's frame of mind to avoid burnout and set realistic expectations:
Every single opportunity is gonna be different with a different set of challenges. So you need to be constantly evolving and developing your own skills to handle those many different challenges.
Yasmin Ismail
Proposal Manager
Shipley Associates, supporting Microsoft's Proposal Center of Excellence
If you found these tips helpful, continue the conversation and post on Linkedin with the strategy (and leader) you'd like to learn more from. With this collection of expert insights and continued dialogue, you're all set to take off in the world of proposals. 🚀